 The history of Daras International, expert in international trade since 1876
Daras International was born in 1876, founded by a family of Greek merchants, newly settled in Marseille.
It seems that the history of our international trading company was meant to last since 5 generations have succeeded to perpetuate it, with the same purpose: to keep
renewing and modernizing itself to adapt to a continuously evolving market.
For more than 140 years, we have been striving to maintain our family and human company spirit, a philosophy that is close to our heart.
Today, we want our organization to offer responsiveness and flexibility to our customers, with simple and versatile processes.
It is in Marseille that it all began, and it is the city that will always have a special place in our history: we are proud of our historical local roots in Marseille.
Around these initial values (adaptability, knowledge, and understanding of cultures), our multicultural team, open to the world and multilingual, also works every day to
create bridges between countries, producers, and consumers.
International trade: more than a business,
our savoir-faire
At Daras International, we have developed our expertise in the international trade of food products (spices, dried fruits, preserves,…) Over the last 30 years, we have extended our international trade activities
to food additives (pectins, gums), metallurgy and industrial equipment (flat products in coils or sheets, in bars or tubes, beams, etc.), as well as chemical products (phytosanitary products, refrigerant gasses, etc.)

Agro-food products

Metallurgy and industry

Chemical products

additives products

A word about our suppliers
In order to reduce the number of intermediaries, we have chosen a direct connection with our producers with which we build long-lasting and beneficial relationships. Our sourcing is worldwide, from various origins, and we are always looking for new sources of supply to guarantee product availability. We also make sure to be reactive to the evolution of the market.
Our company can claim an international reputation
combining know-how and product quality
Sales representatives who advise you and technical support at your service
Through its market expertise, our team advises you on the evolution of material costs, the timing of the purchase, and more.
All our relationships are based on listening, trust, and transparency, with services, solutions, and customized support over
time.
In addition, you benefit from a unique contact, from the first connection to the delivery.
Demand for excellence for a caring and thoughtful quality department
Selection of suppliers (handpicked following an audit of their administrative and financial reliability), compliance with customer
specifications and with regulations, traceability and analysis of products, control and audit of goods at origin and upon receipt, control via GLP analysis laboratories, travel for factory visits, technical and regulatory monitoring, etc… are all "hats" worn by our quality department.
The composition of our experienced team allows us
to meet all customer needs
A great ability to adapt and a time-tested conscientiousness
All our supply chain and logistics solutions are tailor-made for both our suppliers and our customers.
Able to adapt to all requests (documents, packaging, palletization, grouping, storage, etc.), we master all the rules and techniques of international trade (mastery and respect of Incoterms (we can buy EXW, FOB, or CIF or do DDP delivery according to needs), documentary and administrative management with all the formalities, insurance, customs)
We deliver directly in cross-trade to all destinations.
Serene and transparent financial relations
Familiar with international payment and financing techniques, we put all our energy into building long-lasting and trustworthy
relationships.
At the same time, we are happy to rely on a strong historical network, which we constantly put in direct competition to obtain preferential prices and, above all, the best quality-price ratio.

Daras International
a global commercial activity
and network of suppliers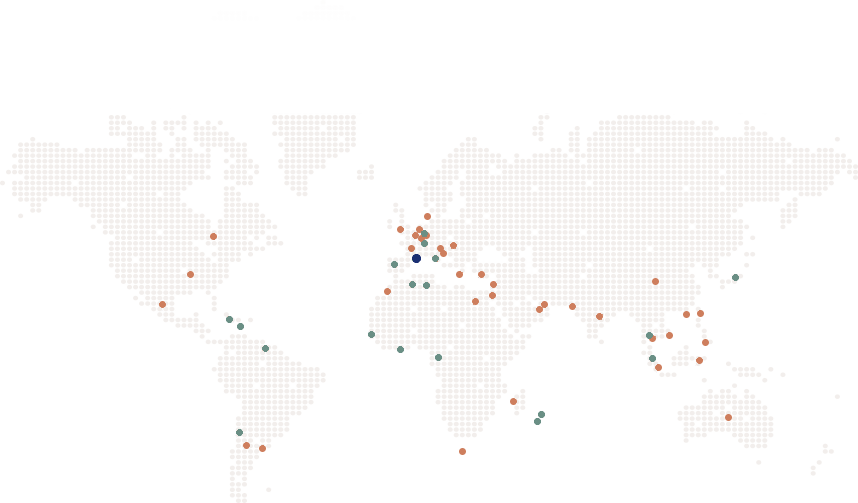 WOULD YOU LIKE TO KNOW MORE ?